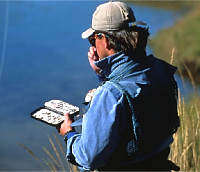 "All the romance of trout fishing exists in the mind of the angler and is in no way shared by the fish."

-- Harold F. Blaisdell
The following is the monthly program schedule for the LSFF.
There's a quality educational program at each general meeting. Professional fly fishing guides, tiers and speakers from the area and from across the country are invited to share their knowledge and expertise. Take a look at the calendar of events to see the education program schedule. Great door prizes will be given away at each general meeting. The meetings are no charge and open to the public.
LSFF 2006 General Meeting Program Schedule
The 2006 schedule of programs is set. We have established a variety of presentations sure satisfy the needs of our diverse membership. Take a look and mark your special dates on your calendar.
February 21st. 2006 Meeting – New Location
The February meeting of Lone Star Fly Fishers Club will be held at Tyler Junior College West Campus, on Loop 323. The meeting will be in Room 104 and will begin at 7:00 P.M. Fly tying and fellowship (Lyin and Tyin) will begin at 6:00 P.M. for those who want to participate in this.
Tie One On At Six
Since we will not be eating as a group prior to the beginning of the Tuesday night meeting, some of us have planned to be at TJC West by about 6 P.M.