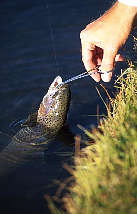 "The best way to learn to be a fly fisherman is to go to a river and ask the trout for a few lessons."

- Gwen Cooper
BACKCOUNTRY
Backcountry offers a complete line of high quality outdoor gear, clothing, footwear, luggage and supplies & Wilderness Kayaks. The Backcountry Fly Shop offers Sage, Redington, St. Croix, TFO-Temple Fork Outfitters, Scientific Angler and Patagonia fly fishing gear and supplies as well as a comprehensive inventory of fly tying tools and material. Master tier Jim Green offers fly tying classes periodically at the fly shop.
Clayton Turner, Owner

Jim Green, Fly Shop Manager

3320 Troup Hwy, Tyler, Texas 75701

Phone: 903-593-4602

e-Mail:
JONES CREEK ORVIS
Jones Creek is a complete Orvis dealer offering high quality fishing gear, wing shooting gear, outdoor clothing, luggage and gifts for the avid sportsman. Let Jones Creek book your next fly fishing trip. Redfish specialist Ric McNulty can coordinate a memorable saltwater trip for an opportunity to catch huge Redfish on a fly rod.
Kay & Barry Jones, Owners

2301 S. Broadway, Suite A7, Tyler, Texas 75701

Phone: 903-526-FISH

Fax: 903 592-2626

e-Mail:
TYLER JUNIOR COLLEGE FLY FISHING PROGRAM

Basic and advanced fly fishing and fly tying classes for individuals of all skill levels. TJC offers a six-week fly fishing course several times each year. Advanced courses are also offered that may include class trips to Montana, New Mexico, Colorado, etc. A six-week fly tying course is offered periodically.
Steve Robbins, Director
P.O. Box 9020, Tyler, Texas 75711
Phone: 903-510-2020
Fax: 903-510-2948
e-Mail:
Web Site: rtdc.tjc.edu/fishing
HAL MARIS ARCHITECTS
If you can dream it, we can build it.
Hal Maris, Architect
Phone: 903-581-1009
1918 Sybil Ln., Tyler, Texas 75703
e-Mail:
Web Site: HalMaris.com
WOODRUFF'S GUIDE SERVICE
Rob Woodruff is a full-time fly-fishing guide and a commercial fly tier. He specializes in guiding anglers on some of the most famous and productive East-Texas lakes, as well as Oklahoma's Lower Mountain Fork River and Glover River. Rob, his techniques, and his flies have been featured in Outdoor World, Warmwater Flyfishing and Bassmaster magazines.
Rob Woodruff, Guide
3371 N. FM 14, Quitman, TX 75783
Phone: (903) 967-2665
e-Mail:
Web Site: www.flyfishingfork.com
BEAVER'S BEND FLY SHOP
This guide service and fly shop is located on the banks of the beautiful Lower Mt. Fork River in Beaver's Bend State Park near Broken Bow, Oklahoma. The fly shop offers Redington and Scientific Angler fly fishing gear and supplies. Ingram can book a guided trout or smallmouth bass trip to suit your needs.
Sid Ingram, Owner
Beavers Bend State Park, Broken Bow, OK.
Fly Shop Phone: (580) 494-6070
Home Phone: (870) 642-6771
e-Mail:
Web Site: www.beaversbendflyshop.com
DON OLIVER
Don Oliver, an avid dry fly angler, is a knowledgeable and detail oriented fly fishing guide for the San Juan River in New Mexico as well as the Animas River and several small streams of Southwestern Colorado. It is the mission of Don to provide a fun and safe trip, to provide a positive learning experience, and to promote an appreciation of fly fishing and the San Juan National Forest.
P.O. Box 3448, Durango, CO. 81302
Phone: (907) 382-0364
e-Mail:
Web Site: www.donoliverfishingguide.com
HIGH COUNTRY ANGLERS
Experience the premier dry fly fishing Northern New Mexico is known for. Doc Thompson, an independent fly fishing guide, has been stalking wild trout in Northern New Mexico's many small streams for 2 decades.
Doc Thompson, Owner
Phone: 505-376-9220
e-Mail:
Web Site: www.flyfishnewmexico.com
BLACKBIRDS FLY SHOP & LODGE
Mark Bachik, owner of Blackbird's Fly Shop & Lodge in Montana, is a recognized host on sports network television today. He has hosted national shows on ESPN, ESPN2 and Outdoor Life networks. Nestled on the bank of the Bitterroot River, Blackbird's Lodge provides thrilling trophy trout fishing and unparalleled hospitality for groups of up to ten individuals. Fly fish the Bitterroot, Bighole, Beaverhead and Blackfoot rivers.
Mark Bachik, Owner
Phone: (800) 210-8648
e-Mail:
Web Site: www.blackbirds.com
SPRING CREEK BARBEQUE
Excellent barbeque prepared in the Texas tradition. Catering and banquet facilities are available.
5810 S. Broadway, Tyler, Texas
(903) 561-5695
THE FULL CREEL: Full Service Online Fly Shop
"At The Full Creel we're serious about fly fishing. Our passion is fly fishing. We eat, drink and sleep the stuff. Whether you need fly gear, a guided trip or just a little information... our experienced and dedicated team can help satisfy your needs and make your next adventure totally unforgettable."
Web Site: www.thefullcreel.com
KIRKLAND DESIGN
Ed Kirkland is a professional web site developer and an accomplished fly fisherman. Kirkland Design offers a variety of services to meet your web development needs.
Ed Kirkland, Web/Graphic Design & Fine Art
Phone: (903) 759-5356
Web Sites: www.edwardkirkland.com
e-Mail: