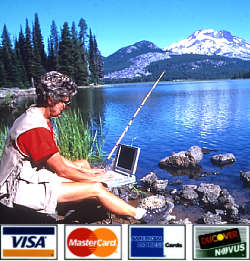 Join Us
Would you like to enjoy fly fishing even more? Are you interested in sharpening your casting and tying skills? Would you like to enhance your fly fishing knowledge? Do you believe that helping kids learn about fly fishing is important? Are you concerned about our declining fisheries and natural resources?
If you answered yes to any of the above then this club is for you.
Full membership includes:
LSFF informative and educational newsletter 12 times a year.
High quality educational programs at monthly meetings.
LSFF Certificate of Membership, suitable for framing, for new members.
Free access to the extensive LSFF library of educational books and videos.
Opportunities to fellowship and share knowledge with other fly fishers.
Opportunities to participate in the round table tying sessions to fellowship and share techniques with other tiers.
Opportunities to participate in coordinated fly fishing outings to various locations.
Opportunities to contribute to conservation programs for all fish in all waters.
Opportunities to participate in clinics to teach kids about fly fishing.
Opportunities to participate in raffles and free drawings for chances to win high quality fly fishing gear, flies and supplies.
Fly fishing, fly tying and rod building gear available to check out for personal use.
To join Lone Star Fly Fishers
Simply print and complete the Membership Application below and mail with appropriate membership fee to the address provided or bring it to the next meeting.
You may also join online with a credit payment via PayPal.
To join LSFF online click here. (Under Construction)
Your Lone Star Fly Fishers full membership extends from January to December of each year. Your membership fee may be prorated depending upon the time of year that you join. You may also join at any meeting. LSFF will accept check, money order or cash. Annual dues is $25 for adults and $15 for kids under 16 and is due January 1st. of each year.