KT Diaries New Schedule
By Gordon Bryson
Tyler's own Kevin Townsend has a new series of videos that are being aired on the Outdoor Life Network. The first episodes were shown on Fridays, but Kevin has been notified they are being moved to Sunday at 7:00 am and Monday at 8:30 am.
Visit his website, ktdiaries.com, for reviews of upcoming episodes and to verify the latest time schedules.
This is a very different approach to your normal outdoor shows and reflects the dedication Kevin has to teaching future hunters and fishermen about nature and daytona beach fishing charters. There is an ample dose of entertainment, humor, and instructional content for all of us. Tune in, I know you will enjoy and become a fan of these adventures.
What's New With Rob?
By Gordon Bryson
Things are certainly changing for our friend Rob Woodruff since he presented his last program at our meeting. I recently received an email from him discussing some of these changes and some thoughts on the fishing outlook for East Texas and Oklahoma.
For starters, Rob has been accepted as a member of the Orvis Endorsed Fly Fishing Guides. This prestigious group operates through Orvis endorsed lodges, outfitters, and individual guides. Aside from knowing you will be fishing with a most capable and knowledgeable guide, you will have the opportunity to try out some of the latest equipment during your trip.
Rob's website has just been redesigned and updated by the Blue Runner Design group. Take a look at it at: flyfishingfork.com.
To compliment this new website and endorsement by Orvis, Rob has a new boat for East Texas bass trips. It is a 20 foot Xpress HD Center Console that has been custom modified to include all the bells and whistles that Rob knows will make it the ideal boat for fly fishing for bass. You can view this new craft on his website.
For those of you with a big appetite, or just those of you that are accustomed to eating about mid-day, Rob is now including on the lake lunch on all full day guide trips. Also, Rob is expanding fly fishing guide service to several smaller East Texas lakes such as Winnsboro, Quitman, Gilmer, and Hawkins for great bass, bream, and the hard fighting chain pickerel. Customers will have the option to fish one or two lakes in a full day. January and February will still be concentrating on the chain pickerel at Daingerfield State Park.
Rob has dropped guiding trips on Glass Lake and is no longer hosting trips to Pine Point Lodge in British Columbia. The lodge has changed ownership and the new owner is making it into a martial arts training facility instead of a fly fishing lodge.
What is the outlook for fishing now and into the spring in our area?
The trout fishing at Lower Mountain Fork is very good right now. Zone 2 has good numbers of 16-21 inch Rainbows, and they are attempting to spawn in several areas. The March Brown mayflies should begin hatching anytime. Spillway Creek has plenty of Rainbows and is producing some beautiful 16-18 inch Browns. Fishing should stay good well into the summer.
The drought has hit the upper river and its tributaries pretty hard. 2006 will probably not be a good year for smallmouth bass fishing. The rivers should recover quickly with rain as some Smallmouths will move up from the lake. The Walleye and Sand Bass run on the upper Mountain Fork will depend on how much rain falls with the next few weeks.
Texas bass fishing will also depend a lot on rainfall during the late winter and early spring. Fork is about 4 feet low right now. Bass survey numbers were very good during the fall of 2005 and things look promising for the spring. The hydrilla is back like in the good old days. If current weather patterns hold, the spawn activity will start about a month early. Barring extended cold weather in the next couple of weeks, the full moon in February should start things rolling.
For other East Texas lakes, the early spawn for bass should follow the same pattern as Fork. Lake Gilmer has earned a well-deserved reputation for producing monster size bluegills and Winnsboro has always been terrific for redears. Both should begin to show bream bedding activity in late March. Monticello is experiencing a return of hydrila and the south end of the lake will provide topwater action starting about the middle of March. As always, Monticello will be a great place for the days immediately after a cold front blows in.
If you're looking for a great fly fishing trip, a great companion for a fishing outing, and a knowledgeable experienced fly fishing guide, you couldn't find a better person to fill all these requirements than Rob Woodruff. Give him a call early to book your trip.
Sand Bass Time Again

By Gordon Bryson
It's about that time of the year again. You know, when the sandies (white bass) start thinking about spring and moving up the creeks and rivers to spawn. Gene Bethea has already started catching some real nice ones at Caddo, and as soon as the rains get the creeks flowing again, we should start seeing action on the Neches and Sabine.
Do you have some favorite sand bass fly patterns you'd like to share with the club? Simple clousers in white and combinations of lighter colors with white are all good for these critters. They don't have to be tied world class either, in fact, since the creeks and rivers have a lot of root bass and other predators, you'll want to make them as simple and inexpensive as possible. If you're not loosing a few, you're not fishing deep enough.
Here are a few favorites I found on the Texas Backwater Hawgs website tied by BulletBob, who hails from the Austin area. For a better view and tying instructions, you can check this url: http://www.geocities.com/clinscott_pfl/bwhgpage3.html
There are also some nice clouser patterns by some of their members, just check this website and look for the link to patterns: http://www.geocities.com/clinscott_pfl/backwaterhawgs.html.
Native Waters On Outdoor Life Network
By Roger Stouff (Excerpts from FAOL January 30, 2006)
Those of you kind folks who keep track of this dribble on a regular basis know that back in July I flew to Montana to fish trout on the Blackfeet Reservation with guide and tribal member Joe Kipp for the first of two episodes of Fly Fishing America. Joe then flew down here in November for a less productive but very fun time fishing in Chitimacha country in Louisiana for the second episode.
Part one of the program, which the producers have titled "Native Waters," will air Feb. 3 at 10:00 pm., again Feb. 4 at 2:00 am., and Feb. 6 at 8:30 am on OLN.
The second part will air Feb 10, 10:00 pm., again on Feb. 11 at 2:00 am., and Feb. 13 at 8:30 am. OLN is the Outdoor Life Network. (Check your local schedule for time in your area.)
All this excitement made 2005 quite a roller coaster ride for me. I had published my first book, Native Waters: A Few Moments in a Small Wooden Boat in March and got the call to do the television shoot not long after that. My gosh, can you imagine? I was going to Montana! The Shangri La of fly fishing, that's what Montana is. Where A River Runs Through It was set, where the buffalo and the grizzly bears roam.
Then the crew came down here, and though Hurricanes Rita and Katrina put a bit of a damper on the freshwater fishing during that time, and rapid-fire cold fronts did me in for the marsh, we were able to catch a few bass and tell a good story, I hope. If nothing else comes of it, I'll have at least been to Montana and fished some of the most gorgeous country the Great Spirit ever made, next to Louisiana!
Roger Stouff is a native of Southern Louisiana, an avid fly fisherman and author. His twice weekly articles can be picked up on the internet on the Franklin Banner Tribune. Tune into the OLN for these upcoming episodes.
The Full Creel Revision
By Steve Robbins
The Full Creel website has been revised. As a matter of fact, it has been completely rebuilt. The new site is much nicer looking and more user friendly. I used an osCommerce template and had it customized to fit my needs. From an administrative standpoint it's much easier to operate. Adding and deleting products, changing pricese, etc. is much easier. From the shopper's point of view, it's a much more professional looking site. It's very easy to navigate and it offers many user features designed to make their shopping experience more pleasurable.
I'm constantly trying to expand our already huge amount of available gear. The Full Creel is happy to announce the addition of several new lines. We now carry Winston Fly Rods. Winston has one of the best reputations in the fly fishing industry. For years, they've built high quality fly rods that any angler would be proud to own. This year they've introduced two lines of rods that are designed to fit any budget.
You can now get a Winston fly rod for only $179. The new Winston Ascent series has to be the ideal way for entry level or intermediate anglers to become part of the Winston family. Thanks to a smooth, very fast action, all five Ascents are easy to cast and a delight to fish with; whether you're going after trout or bonefish, smallmouth bass or steelhead, there's an Ascent to meet your needs.
The Winston Vapor series offers a true high performance fly rod for only $279. Designed with more experienced anglers in mind than our Ascent series, these 4-piece, fast-action rods are lightweight, very responsive and have a wide casting range that will allow you to make delicate presentations up close or, when the need arises, go for some real distance. Winston Vapor rods have beautiful metallic olive green finish and a matching olive green aluminum rod tube and rod bag. Both the Winston Ascent and Vapor Rods come with an Unconditional Lifetime Guarantee.
The Full Creel has also added St. Croix fly rods to their rod mix. These are definitely some of the best and best selling rods on the market. St. Croix rods are made in the USA and carry a Lifetime Warranty.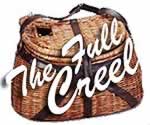 Other new lines include Peak tying vises, Outcast pontoon boats and float tubes, and C & F Design fly boxes. More new lines are on the way.
The Full Creel eBay store is also doing quite well. This eBay store is what really launched us into the online fly shop business several years ago. As a matter of fact, we sell more gear through the eBay store than from any other venue. To take a look, go to: www.ebaystores.com/the-full-creel.
We still have a lot of work to do on the main site but it's finally ready to go live. Please log on and take a look. Play around with it and let me know what you think. Go to: www.TheFullCreel.com.

Cyber Flyfishing: Part IV - Do you IM? (Instance Messaging)
by Ed Kirkland
Do you chat with friends on different IM Clients? What if there is one that does it all: AIM, ICQ, MSN, Yahoo & IRC! Why would you want a separate IM for each Client? Less is More in this case! I use & recommend Trillian by Cerulean Studios.
*NOTE: I use the basic version (FREE & no ads nor spyware).
***Back to More Fly Fishing on Page 1 | Page 3
It is the goal of LSFF to create a newsletter that contains usefull information for all local fly fishers. The club requests that all members to contribute to the newsletter by writing and submitting material. The material may consist of articles, thoughts, quotes, fishing reports, jokes, upcoming events, etc. Your imagination is your only limit. Please submit your newsletter material to .